1920 - Dawn of Peace
Gutierrez led a revolution when Betrand tried to make his brother-in-law the next president. After San Pedro Sula fell Betrand stuffed his pockets with money and ran off to the United States. In 1919 Gutierrez was actually elected president. Thus we have the Dawn of Peace.

National Printing Works in Tegucigalpa.
perf 11.5, typographed. Sheets of 5x5 stamps (27x21) and miniature sheets of a single stamp (51x40). Reportedly available for one day only, February 1, 1920 and purchasers with political connections were given priority. 6000 of the small format were printed and 2000 each of the large format colors, though these numbers are probably highly inflated.

Remainders - none.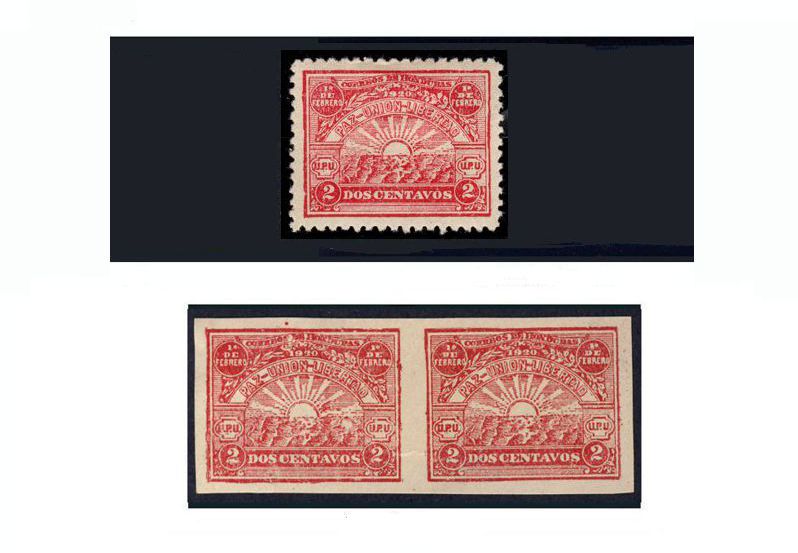 the 27 by 21mm size


The little Dawn of Peace has its share of bogus, backroom fakes.
A tete beche results if the final printing is done in multiple transfers of a secondary fiche to a larger finished sheet and if the transfer of a secondary fiche is inverted. Such was not the case with the little Dawn. It was printed in a single transfer. Thus this item was an intentional creation and no rare accident. It was sold out the back door as a fraud. It is not a postage stamp.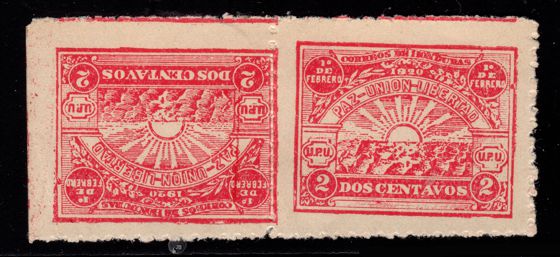 But what about some of the other little Dawn flights of fancy?

Printed on both sides ... or imperforate maybe ...or a gross color?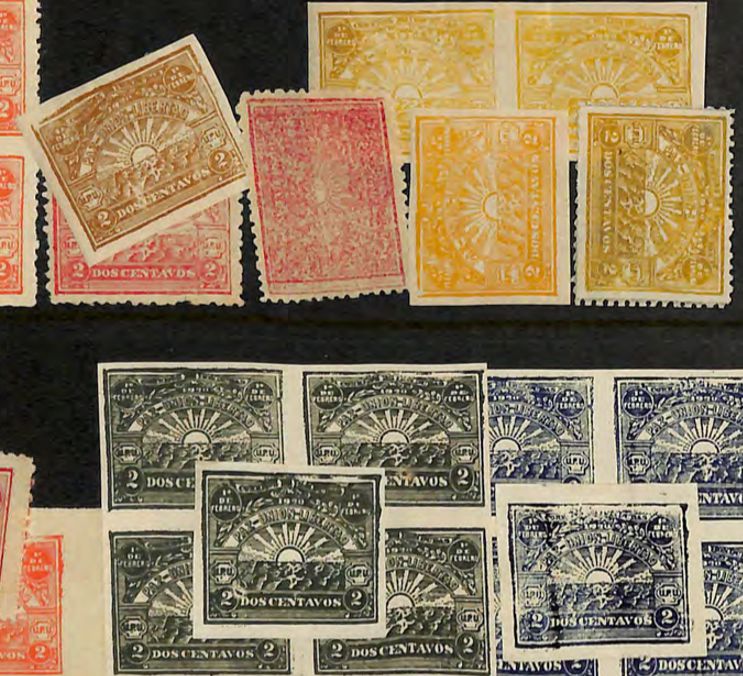 ...deliberate frauds that never saw a post office.
The larger Dawn of Peace

3 of the 4 colors of the larger 51 by 40mm size
The large format stamps were printed individually in sheetlets on white, woven paper. They were typogrpahed in red, but while the red ink was still moist, gold, silver or bronze metallic pigment powder was applied to the surface of the red impression. Then again some claim that all colors were created by sprinkling the colors on stamps printed in clear varnish. Noone seems to have any idea why so many of the sheetlets have corners clipped or trimmed.
How to tell the bronze from the gold?
"...I have a note in my collection indicating it is difficult to tell the bronze from the gold. I'd say the bronze has somewhat of a dark red tinge whereas the gold has a yellowish tinge." (Irving Green)

Large Dawn of Peace Counterfeits
After the initial printing, the printing plate for the larger stamp was put away and probably not even cleaned of ink. It was "discovered" in 1934 and poorly cleaned probably with kerosene. The dirty plate was used to forge a bottomless ocean of counterfeits, but after fourteen years of storage it had deteriorated. Here is what to look for.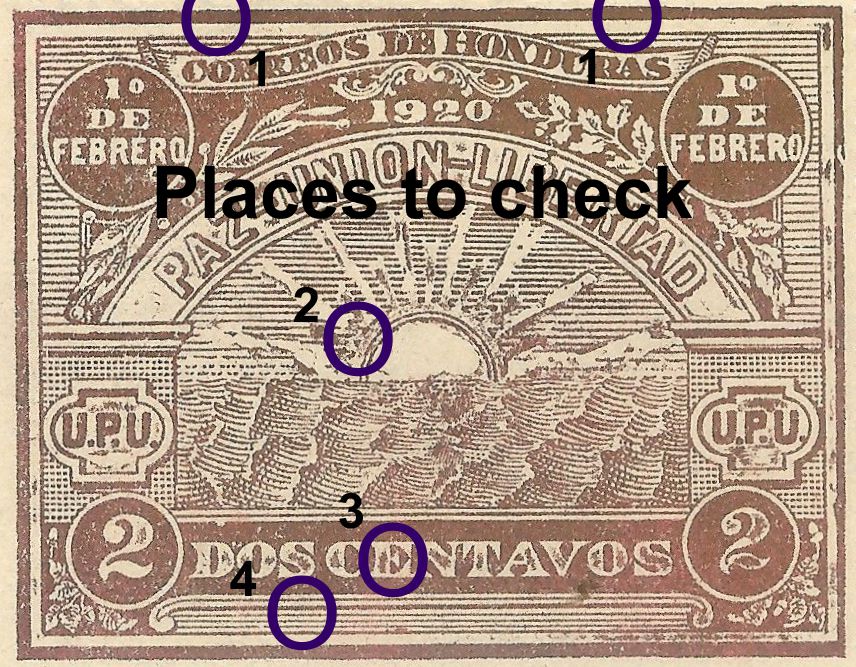 Does the stamp have any little semicircles or lines in either of the position 1 or both? It might look like this.





You are done. It is a counterfeit. The marks were made by the tacks used by the forgers to attach the single cliche to a board for printing. No such marks? Then read on.

Is there a solid line extending out from the sun at the ten o'clock position? Like this?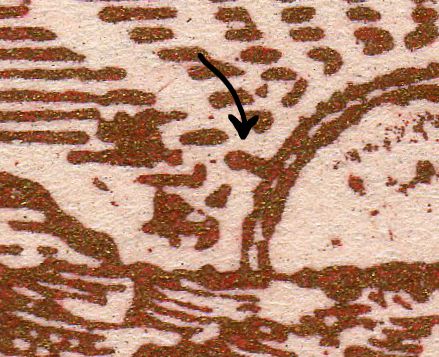 You are done. It is a counterfeit. No such line? then read on.

Does the E of CENTAVOS look like an F? Like this?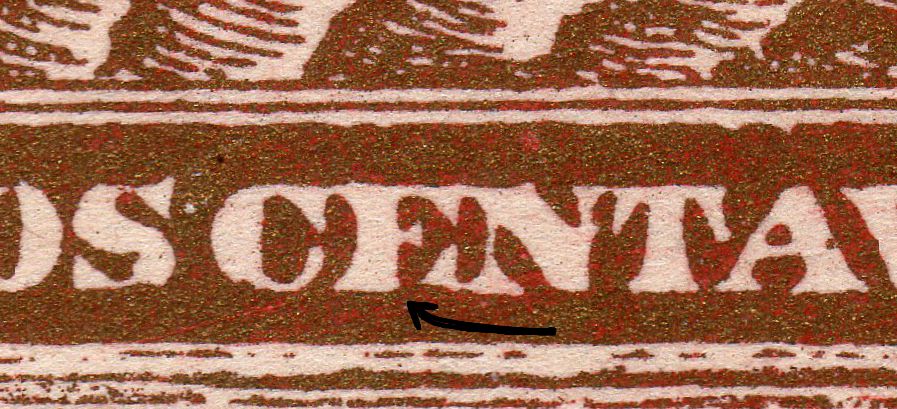 You are done. It is bogus. Is the E OK? Then you are probably OK. But one more thing to check. Are the multiple horizontal lines below DOS CENTAVOS sharp, regular but not perfect; or broken and coarse? Like this.





Good? Great you win! Not good? Perhaps you will feel better knowing there is still one stamp catalog that glorifies these counterfeits as "reprints." Cheer up. It is a rare Dawn of Peace stamp for sale online that is not a counterfeit.

Here is a copy that looks pretty good at first glance.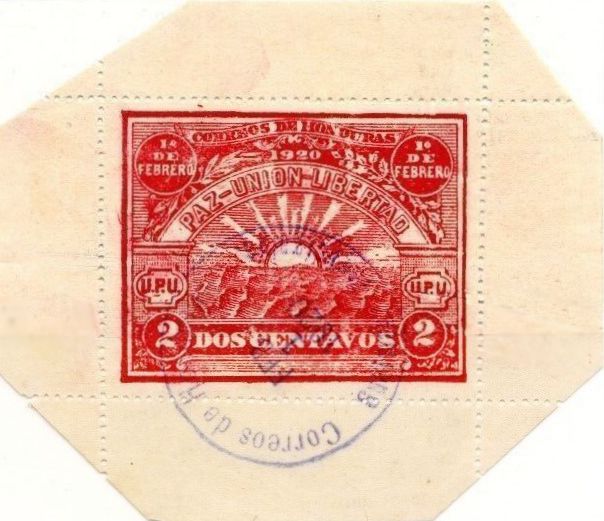 It is over-inked and there is a tack mark in the upper left margin. The horizontal lines are too rough.It has a nice first day of issue cancellation, but the CO cancel wasn't introduced until ten years after the date shown! This one smells really bad!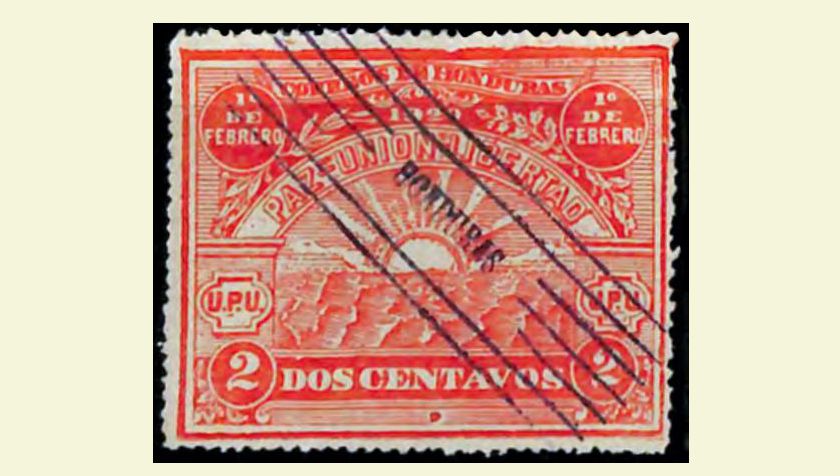 The above was offered at auction in 2020. But look at the chewed, irregular perfs. It boasts a great BH71 cancel but what is the blob below the NT of centavos? And scruffy top printing margin? I think I will pass.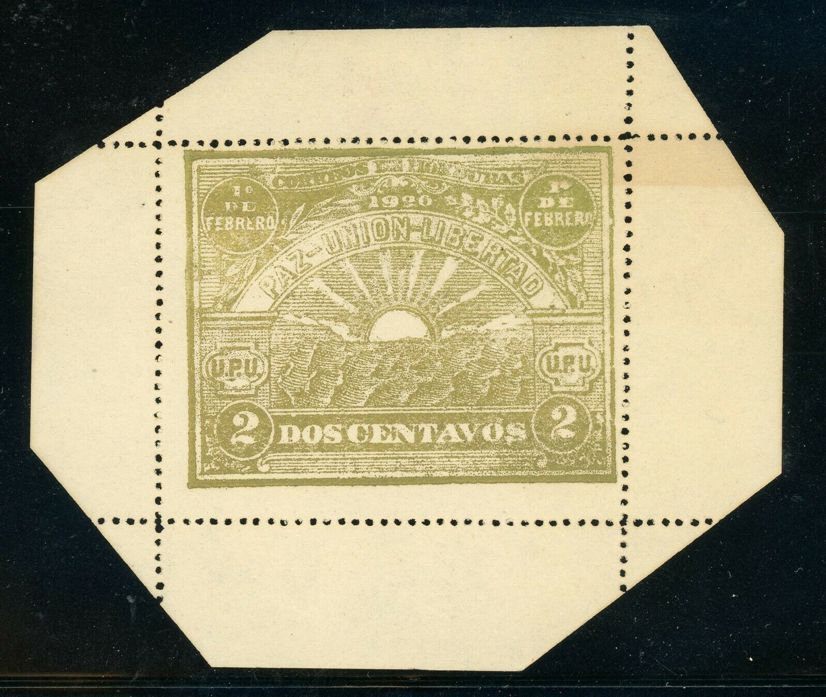 A nice sheetlet like we are looking for but the printing is fuzzy and the color is a flight of fancy. A very pretty counterfeit.

Take the following bogus cover. Should we say doubly bogus? No authority recognizes an imperforate copy of this stamp as genuine. Not even the catalog that glorifies counterfeits as "reprints!" The certification markings are from dates a full year after the genuine stamp was demonitized!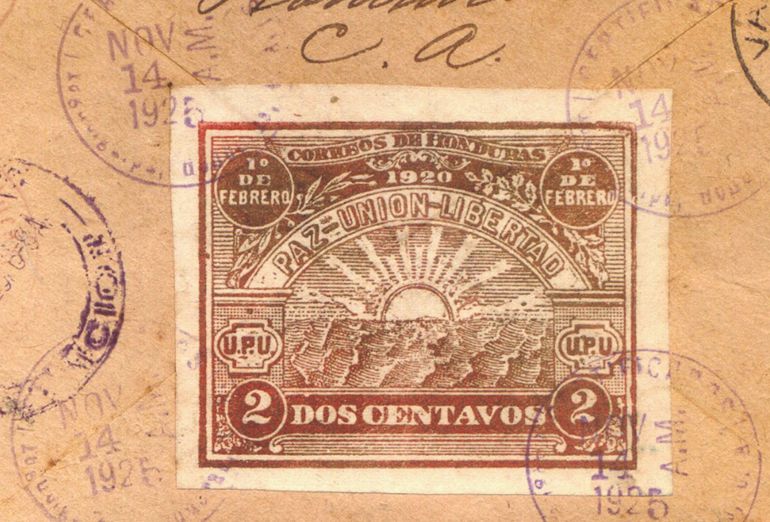 Here is a beautifully done counterfeit but for the 2c stamp is way way below the international rate of 6c and why is the registration stamp in English?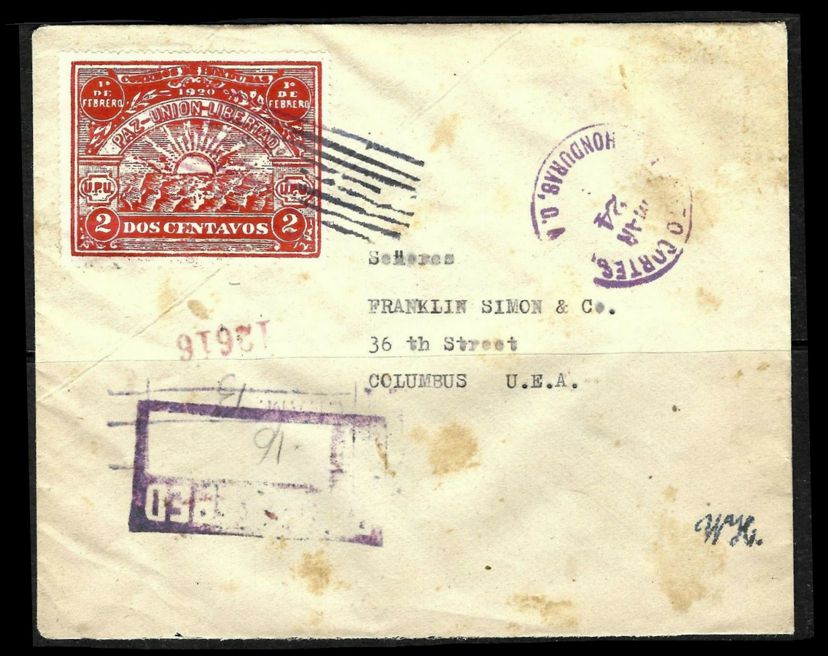 The following counterfeit tries to cloud the issue by addressing the cover to an infamous name in Honduran postal history! The problems are obvious.... nail marks, splinter on sun at 10 o'clock, base lines are trashed and E looks like an F. ...disgusting, but peddled by Colorado dealer in October, 2022.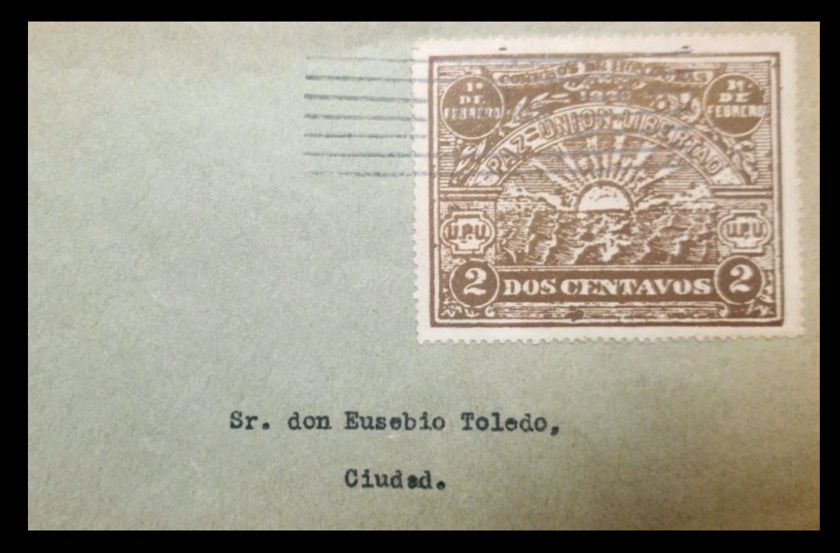 Lots of these fakes were made up with the same name but variations in the address. Here is another counterfeit peddled by a dealer in Webster, NY in September 2023.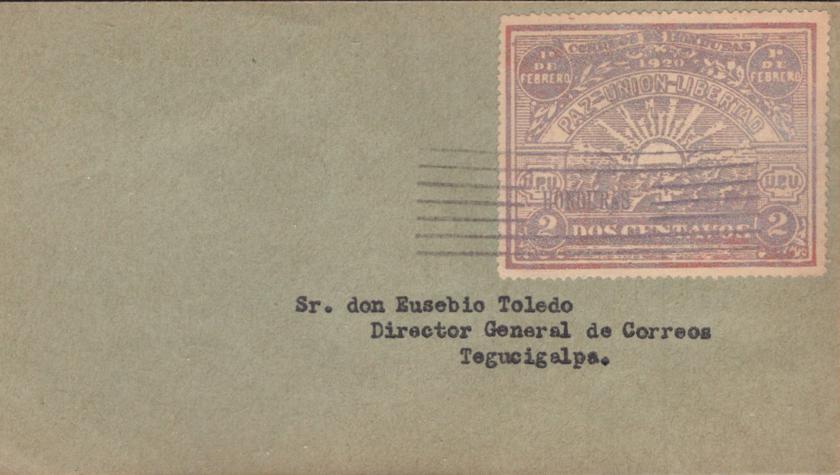 The 1921 Morazán 6 cent Issue
This stamp was reprinted with the actual dirty cliche from the printing works. It had to be an inside job. Here reprint is a euphemism for internal fraud. These never came near a post office. Here are some doublecons with bogus BH81A.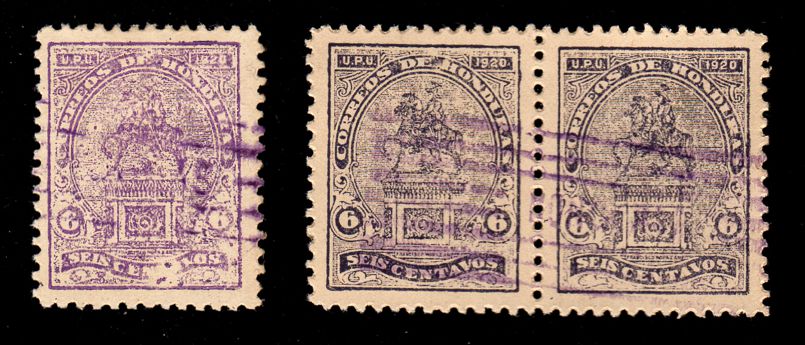 And printer's waste was also collected and sold to stamp dealers through the back door. Very pretty colors, just like the Bertrand issue.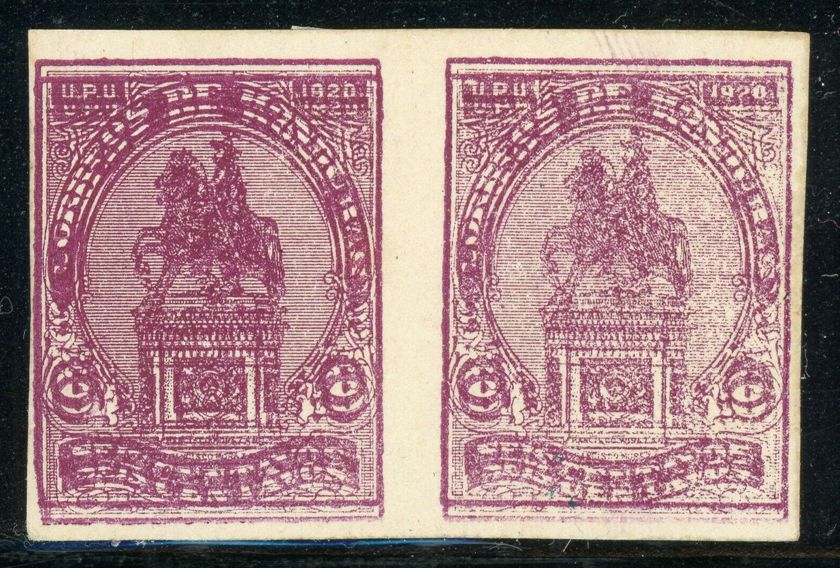 On the one hand most authorities stand by the status of this dubious at best "stamp." The postage rate for letters to all Pan American nations was reduced in late 1921. Letters to the United States were thus reduced from 15c to 6c. Surely a 6c stamp was needed and printed.

But no cover has been discovered bearing this stamp! In late 1922 there followed a rush to surcharge the 2c carmine Morazans for 6c use, whose covers are common. Where are the Morazan 1920 covers? One authority even recognizes this creation with the red "Vale 6 Cts 1926" overprint! How ridiculous is that? This art work has the distinctive aroma of inhouse, good ole boy fraud --not a postage stamp.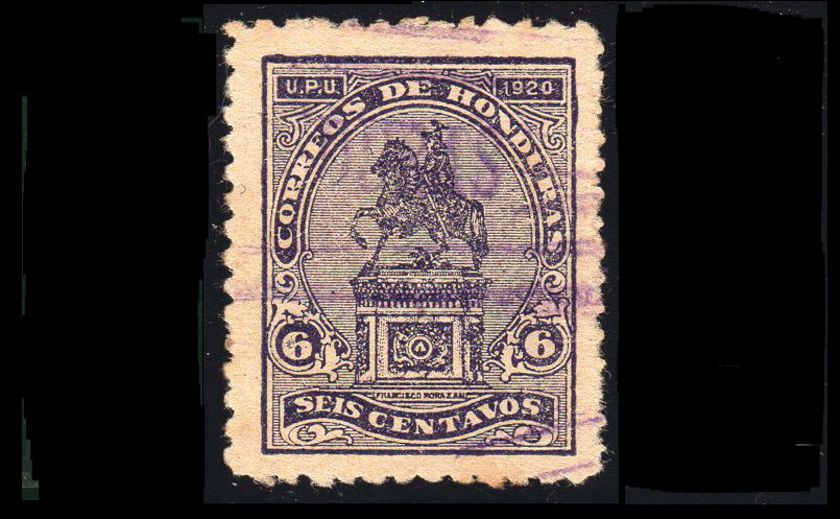 ------------------------------------------<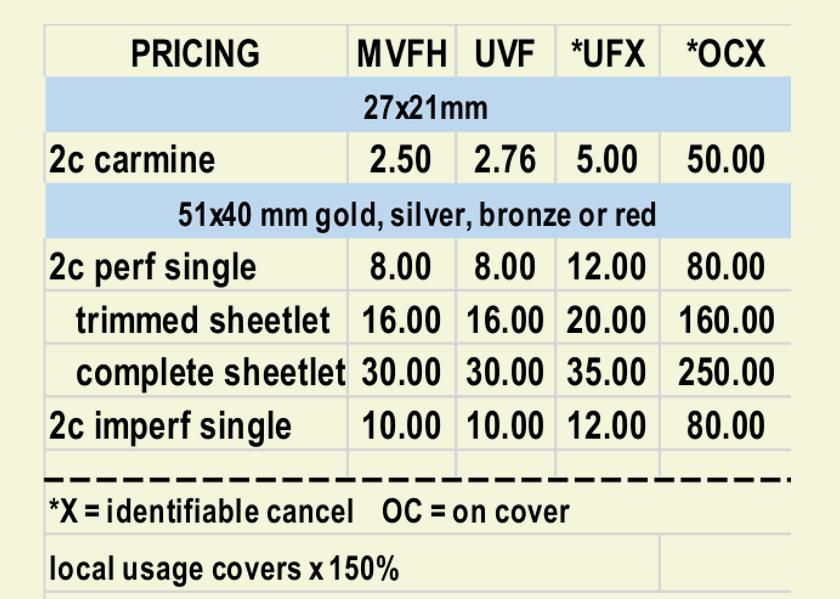 -Correspondance from Irving Green to Richard Washburn, September 26, 1972.
-Honduras Report by Richard Washburn from The Oxcart, winter 1995.
-Honduras Report by Richard Washburn from The Oxcart, spring 1996.
-Honduras: a Study of the Provisionals of 1923 and 1924 by Irving Green
in Billig's Handbook Vol 20 1954 pps. 40-66.
10/23