Control Marks of 1923-1924
Civil War
The presidential election of 1923 did not result in any of the three candidates winning a majority. The departing president decided to shout "fake news!" and declared himself the winner which resulted in a disastrous civil war. The dictatorship of Lopéz lasted until his death in March of 1924. During the conflict in the north many current postage stamps had been confiscated by the partisans. This obliged three postal administraters to add a control mark in the form of their respective signatures to stamps sold as a form of control over using stolen stamps.

The Fonseca surcharge (from Comayagua) is extremely rare.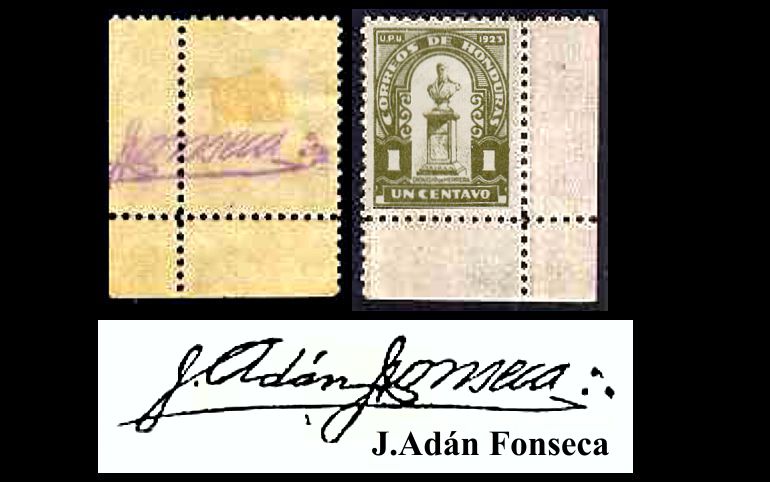 The Cáceres control mark from La Ceiba is also unusual.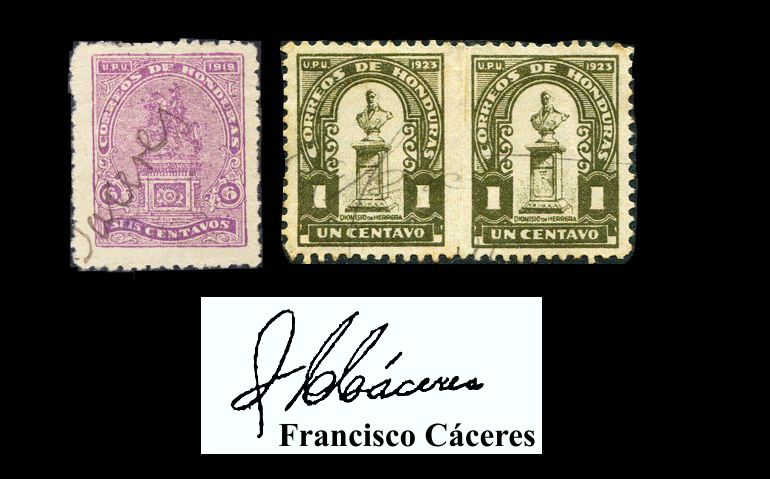 The Herrera signature from Cortés is probably the most common.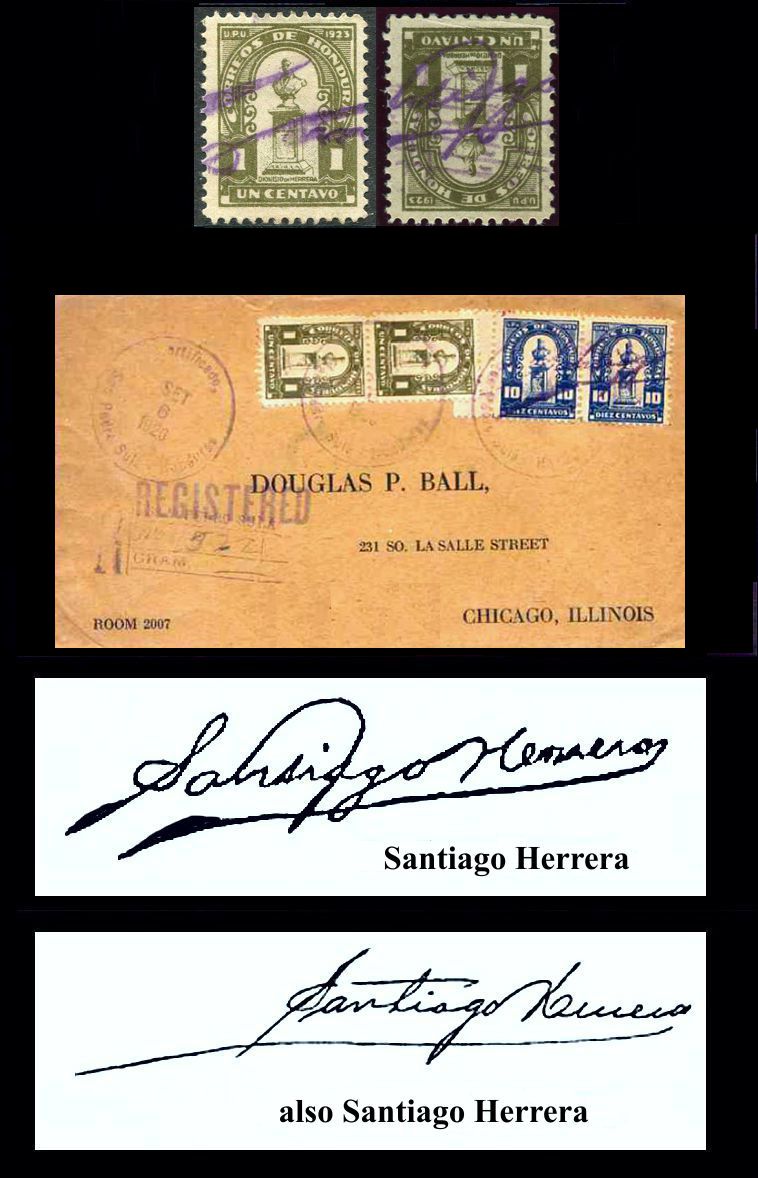 The Black Hand Overprint of 1923-1924
The "la mano negra" overprint was never officially authorized by postal autorities but we will include it under the heading of Control Marks. A piece settlement was dictated by the United States at a meeting held on a battleship at the port of Amapala. Vicente Tosta was appointed acting president to be followed by elections in February, 1925. A quantity of the newly arrived Herrera stamps from a German printer were discovered at the port of Amapala.

It was just in time because the current stamps, the Morazán issue and the Morazán surcharges, had been largely destroyed or stolen in the fighting. In July stamps appeared in La Esperanza, an isolated village in the southern mountains, with an imprint of a pointing hand. These stamps were part of a partisán rebellion in the province. After the Herrera stamp issue was invalidated in 1926, the remainders were returned to Tegucigalpa where they remained until 1932.

Here some of the remainders of 6c Herrera were mixed in with the 6c officials of the same stamp, given the TACA overprint and never sold or distributed to post offices. The new black hand overprint was done by machine and looks different from the 1924 overprints. The production was obviously intentional and produced solely to market directly to stamp dealers as "rarities".



------------------------------------------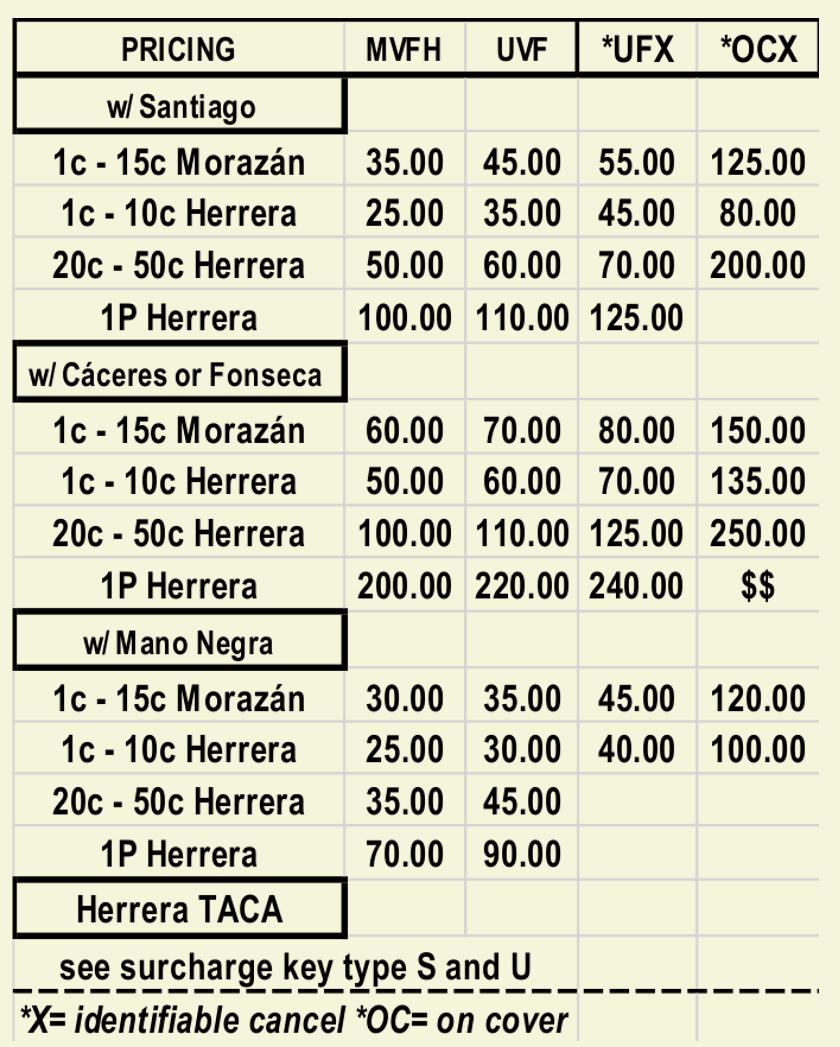 -Anderson Collection
-"La Mano Negra": Sobre-impresión de la República de Honduras by Richard Washburn in Honduras Filatélica, 1977 series 1 volume 5.
-Firmas Facsímiles de Control: Santiago Herrera in Honduras Filatélica, December 1984 pps 513-514.

11/23