Traveling Post Office
The enthusiasm for transcontinental railroad building was forever stalled by the thievery of British capitalists and their Honduran cronies in London.This left Honduras with a crippling national debt and little but the series of stamps issued in 1898 showing the steam locomotive. The destructive debt was not paid off until 1953.

Later Honduras was "coerced" by the United States government into giving American corporations huge, rent-free tracks of land for growing bananas. These coercions were called concessions and part of these concessions was the requirement of the American banana companies to carry mail free of charge on the corporate train routes. The banana companies built hundreds of miles of railroad track for their own use in banana harvesting and these lines on the north coast provided the basis for the traveling post office or TPO in Honduras.

The first TPO was opened in July, 1898. It provided three visits per week along its route of less than fifty miles. The first verified and distinctive Ambulante marking also appeared in 1898. In its period of most extensive operation the TPO provided a railcar and postal employee to receive and transport mail. Letters that were posted at the train received a distinctive cancellation. Each TPO route had a distinctive cancellation that changed through time. Twenty four of these have been verified by Alegría. Sacks of mail being transferred from the south of Honduras or from overseas received no distinctive marking. By 1950 there were over 200 miles of track used for the mobile post office. After the completion of the roadway to the north coast in the 1950s, most mobile post offices were discontinued. However, the last railroad post office operated until 1982.

TPO covers vary from unusal to extremely rare. Cancelled stamps showing the same are very difficult to find.

Alegría Type 1
Color: black
Dates:1898 to unknown
Route:Puerto Cortés - La Pimienta - Puerto Cortés



- - - - - - - - - - - - - - - - - - - - - - - -

Alegría Type 2
Color: violet or black
Dates: April, 1903 to April, 1907
Route: Puerto Cortés - La Pimienta - Puerto Cortés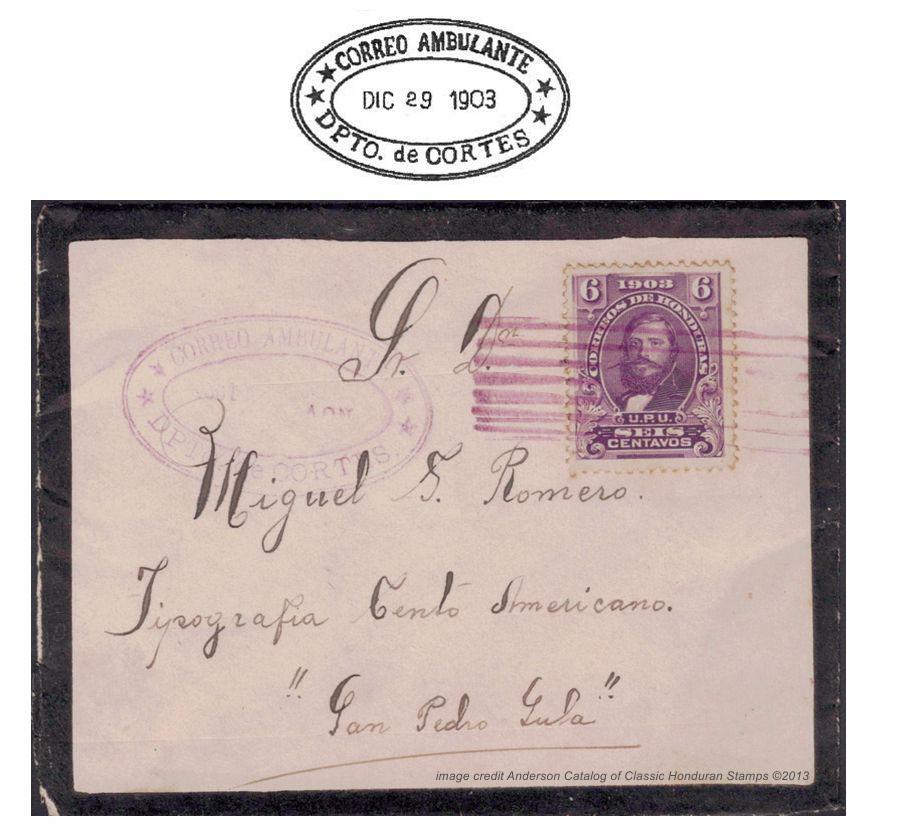 - - - - - - - - - - - - - - - - - - - - - - - -
Alegría Type 3
Color: violet
Dates: from Dec, 1908 to Aug, 1910
Route: Puerto Cortés - La Pimienta - Puerto Cortés
- - - - - - - - - - - - - - - - - - - - - - - -
Alegría Type 4
Color: violet or blue
Dates: from Dec, 1913 to May, 1919
Route: Puerto Cortés - La Pimienta - Puerto Cortés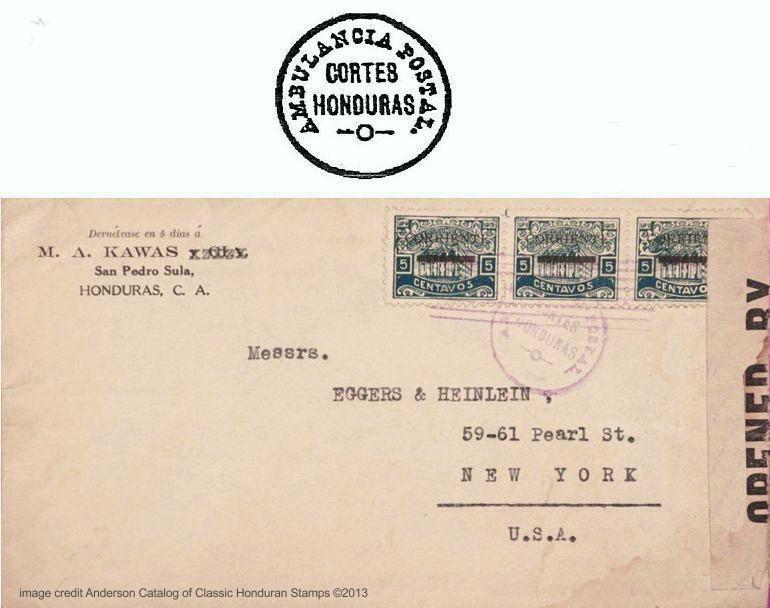 - - - - - - - - - - - - - - - - - - - - - - - -
Alegría Type 5
Color: violet, red
Dates: 1920
Route: Puerto Cortés - Potrerillos - Puerto Cortés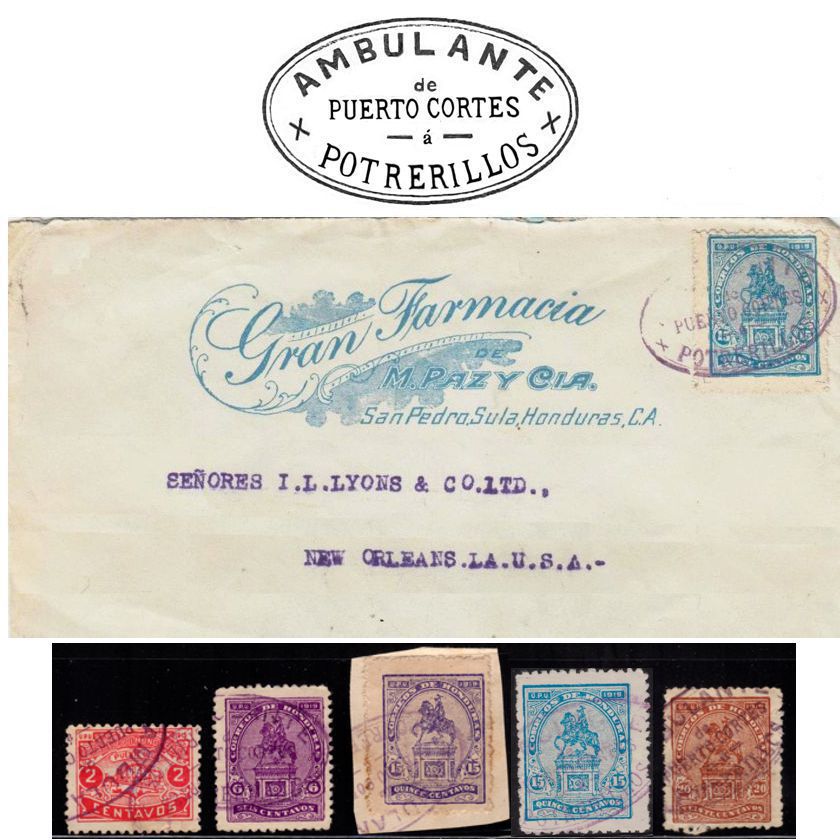 - - - - - - - - - - - - - - - - - - - - - - - -
Alegría Type 6
Color: violet
Dates: 1919-1922
Route: Puerto Cortés - Potrerillos - Puerto Cortés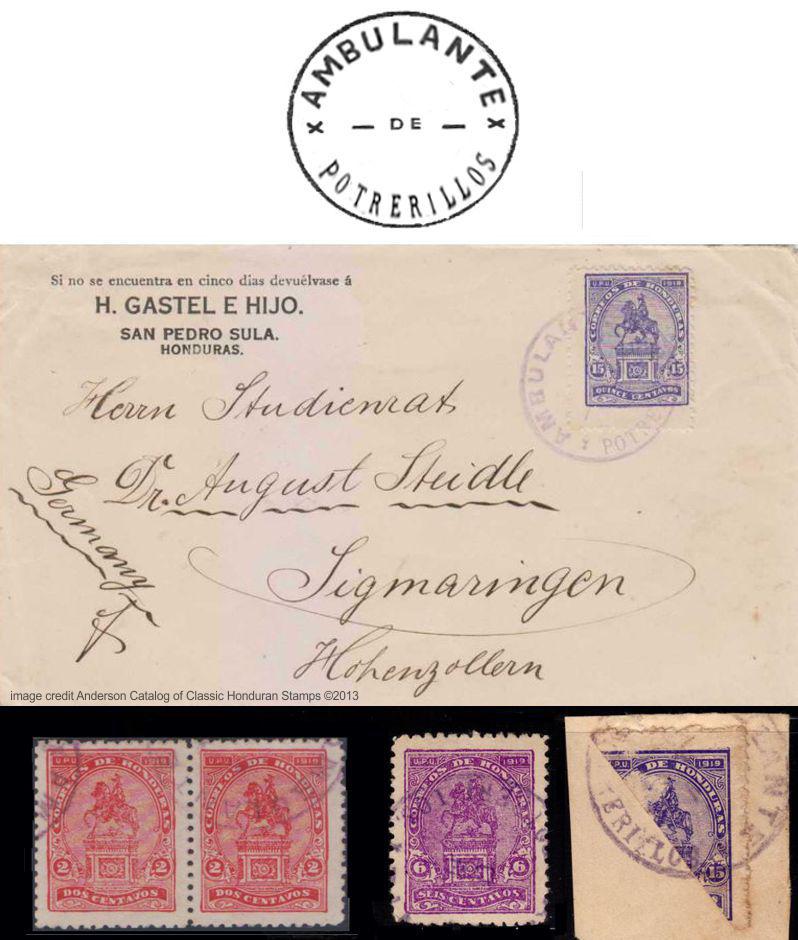 - - - - - - - - - - - - - - - - - - - - - - - -
Alegría Type 7
Color black
Dates: 1922 to unknown
Route: Puerto Cortés - Potrerillos - Puerto Cortés

- - - - - - - - - - - - - - - - - - - - - - - -
Alegría Type 8
Color violet
Dates: from Oct 25, 1924 to Feb 12, 1933
Route: Puerto Cortés - Potrerillos - Puerto Cortés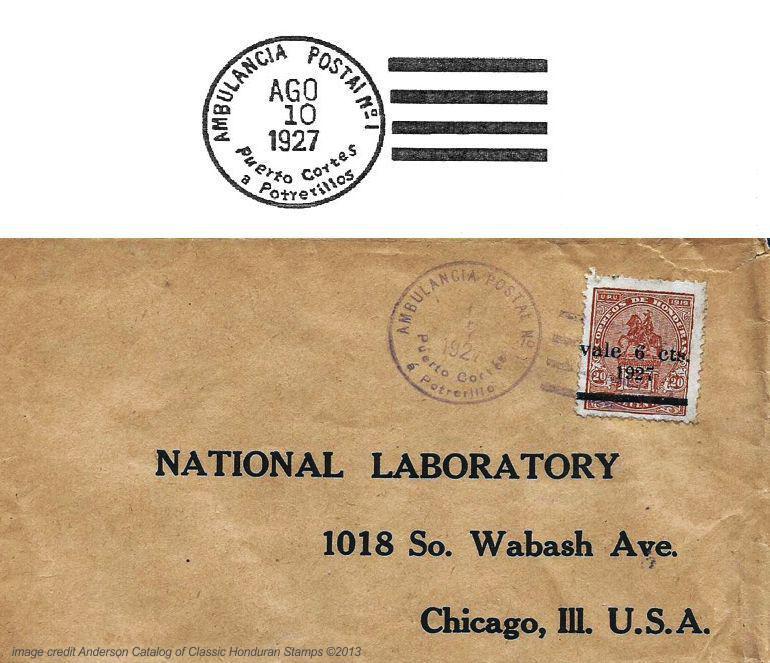 - - - - - - - - - - - - - - - - - - - - - - - -
Alegría Type 9
Color: violet
Dates: used from 1929 to January 12, 1937
Route: Puerto Cortés - Potrerillos - Puerto Cortés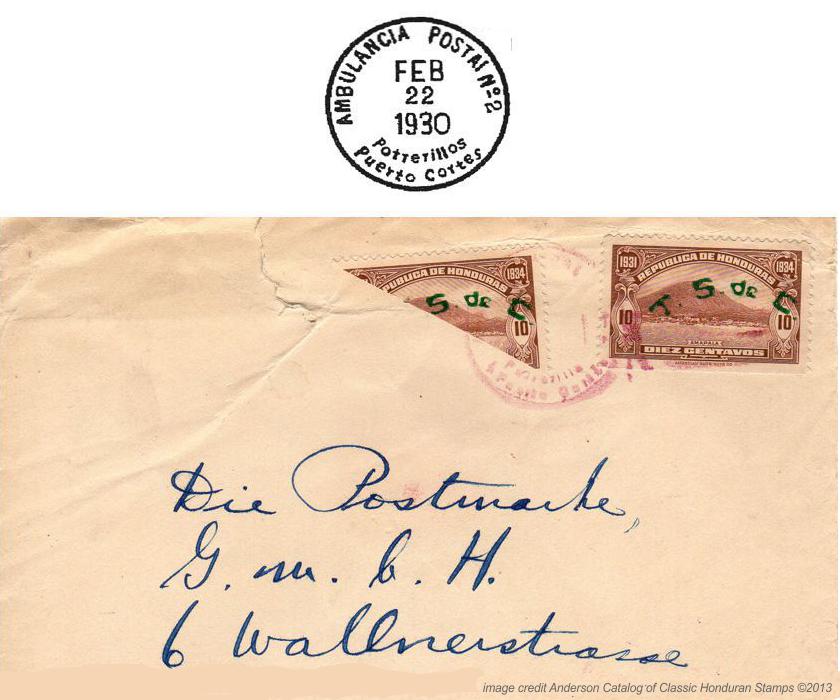 - - - - - - - - - - - - - - - - - - - - - - - -
Alegría Type 10
Color: both violet and blue
Dates: used from October 6, 1935 to January 12, 1937
Route: Puerto Cortés - Potrerillos - Puerto Cortés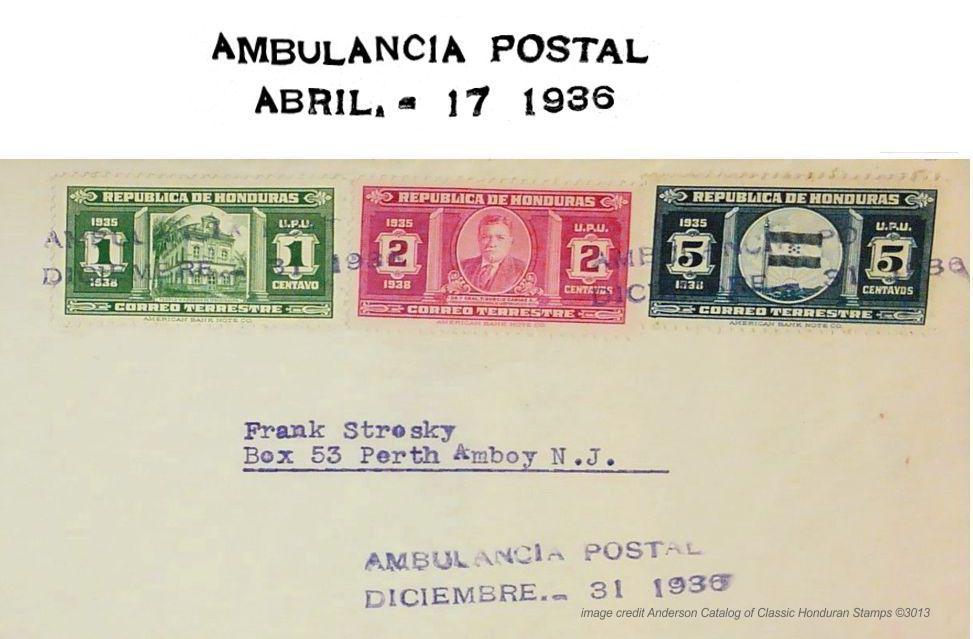 - - - - - - - - - - - - - - - - - - - - - - - -
Alegría Type 11
Color: violet
Dates: used from May 15, 1937 to February 17, 1943
Route: Puerto Cortés - Potrerillos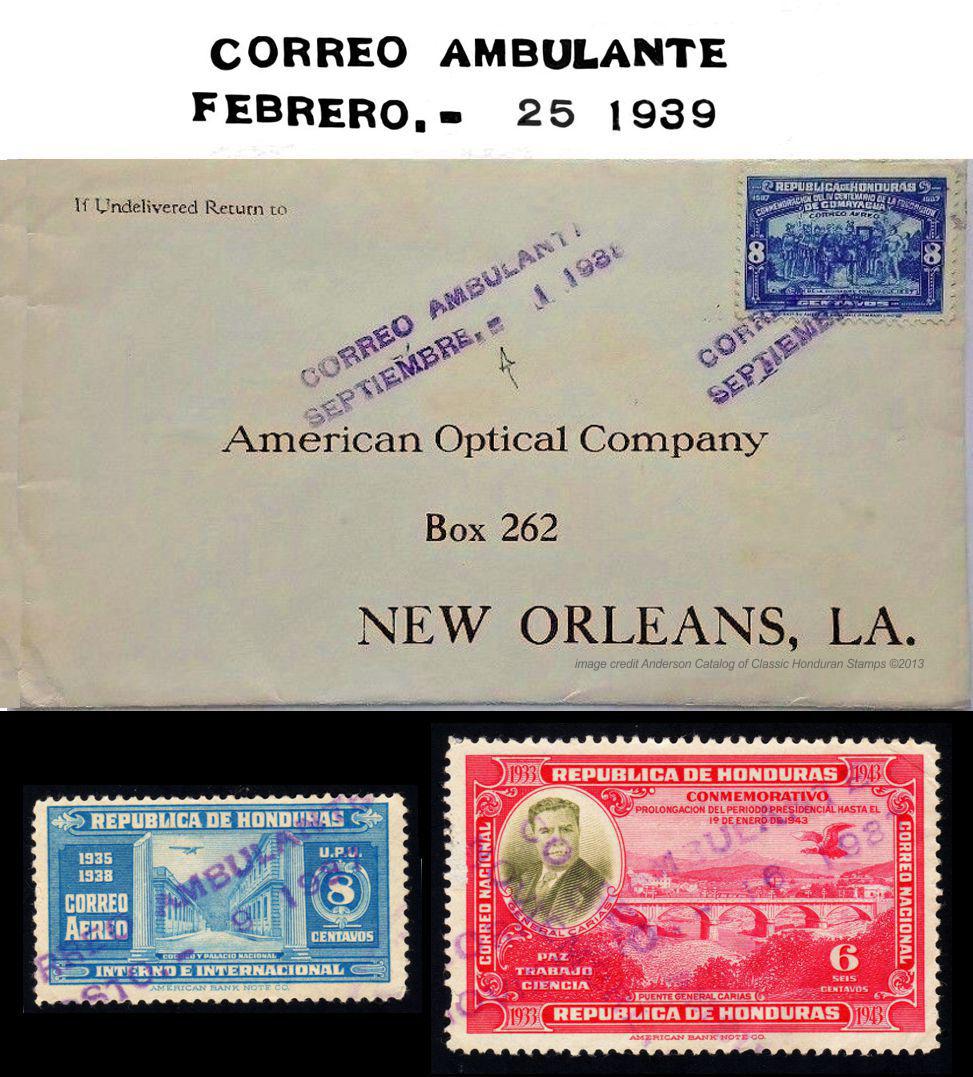 - - - - - - - - - - - - - - - - - - - - - - - -
Alegría Type 12
Color: violet, blue
Dates: used from May 27, 1940 to November 16, 1948
Route: Puerto Cortés - Potrerillos - Puerto Cortés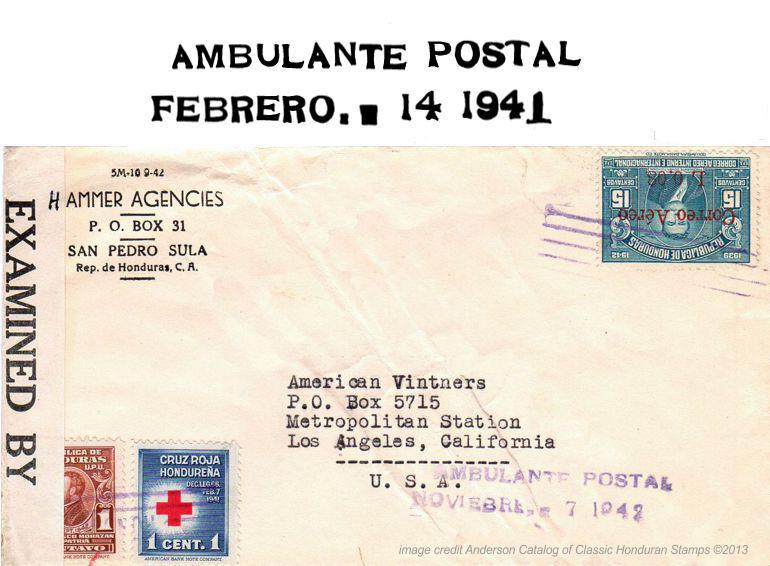 - - - - - - - - - - - - - - - - - - - - - - - -
Alegría Type 13
Color: violet
Dates: December 18, 1954 to September 26, 1958
Route: Puerto Cortés - Potrerillos

- - - - - - - - - - - - - - - - - - - - - - - -
Alegría Type 14
Color: violet, blue
Dates: June, 1916 to 1927
Route: San Juan Benque - La Ceiba - Balfate

- - - - - - - - - - - - - - - - - - - - - - - -
Alegría Type 15
Color: violet
Dates: November 21, 1927 to August 11, 1930
Route: La Ceiba - La Masica - San Juan Benque

- - - - - - - - - - - - - - - - - - - - - - - -
Alegría Type 16
Color: Violet
Dates: August 1, 1928 to 1930
Routes: Balfate - La Ceiba

- - - - - - - - - - - - - - - - - - - - - - - -
Alegría Type 17
Color: violet, blue
Dates: from June 8, 1938 to February 15, 1950
Route: La Ceiba - Tela - La Ceiba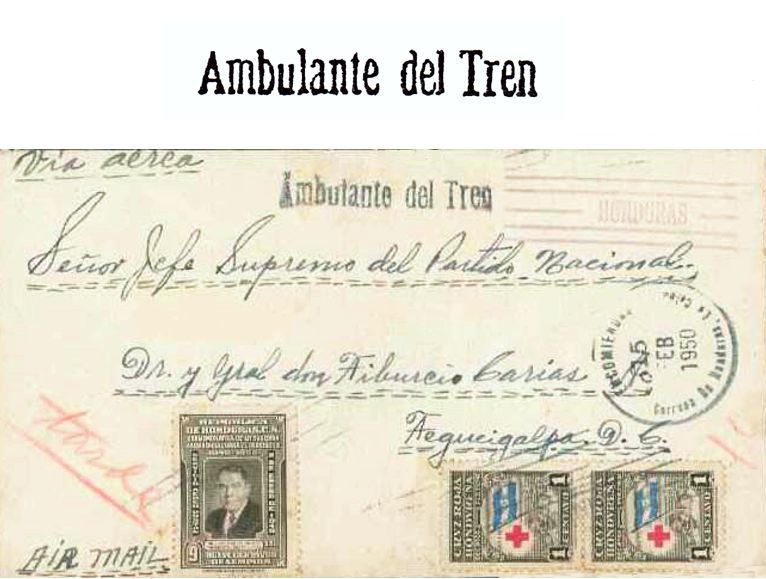 - - - - - - - - - - - - - - - - - - - - - - - -
Alegría Type 18
Color: Black
Date: June 16, 1927 to unknown
Route: Baracoa - Búfalo - San Manuel - Omonita

- - - - - - - - - - - - - - - - - - - - - - - -
Alegría Type 19
Color: pink, violet, blue
Dates: from Jan 4, 1938 to Dec 1, 1939
Route: Baracoa - Búfalo - San Manuel - Omonita
- - - - - - - - - - - - - - - - - - - - - - - -
Alegría Type 20
Color: black


- - - - - - - - - - - - - - - - - - - - - - - -
Alegría Type 21
Color: Black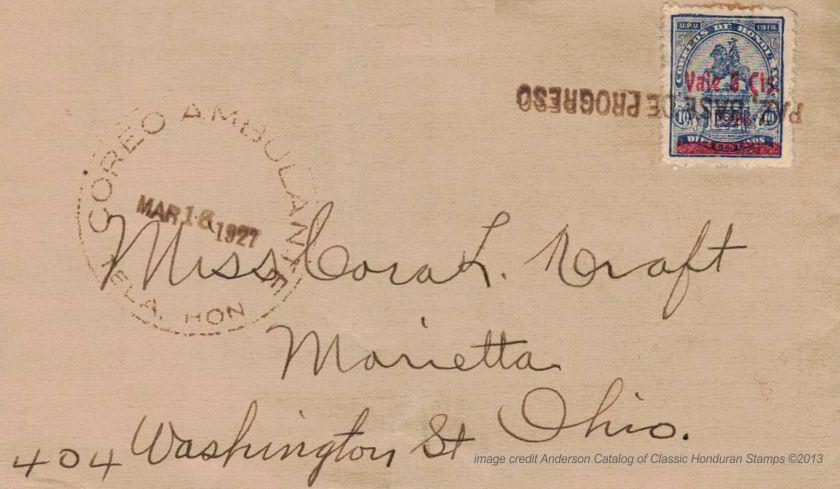 - - - - - - - - - - - - - - - - - - - - - - - -

If you come upon an Ambulante cancel not illustrated above be so kind as to provide us with an image.
-----------------------------------------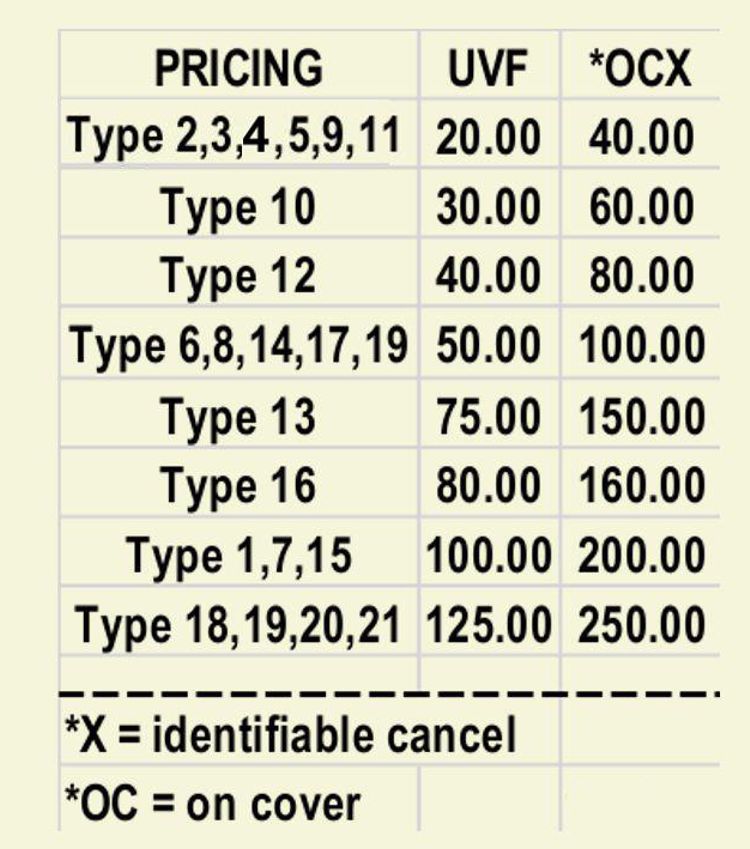 -Anderson Catalog of Classic Honduras Stamps by Craig Anderson © 2013.
El Correo Ambulante del Tren by Edgardo Alegría in Honduras Filatelica June 1995.
El Correo Ambulante del Tren part 2 by Edgardo Alegría in Honduras Filatelica December 2011.
Honduras Republic T.P.Os by E. S. Heap in TPO Magazine March-April 1958 pps. 33-35
Railways of Honduras Republic in TPO in Magazine March-April 1958 p. 36

10/23